All our partners have a great reputation and their experience in International Education is world class. You'll find attached some testimonials from students who had the chance to enjoy the legendary Australian hospitality and the quality of the programs offered to students from all around the world.
In addition to the testimonials on this page, you may also be interested in reading:
English Language Company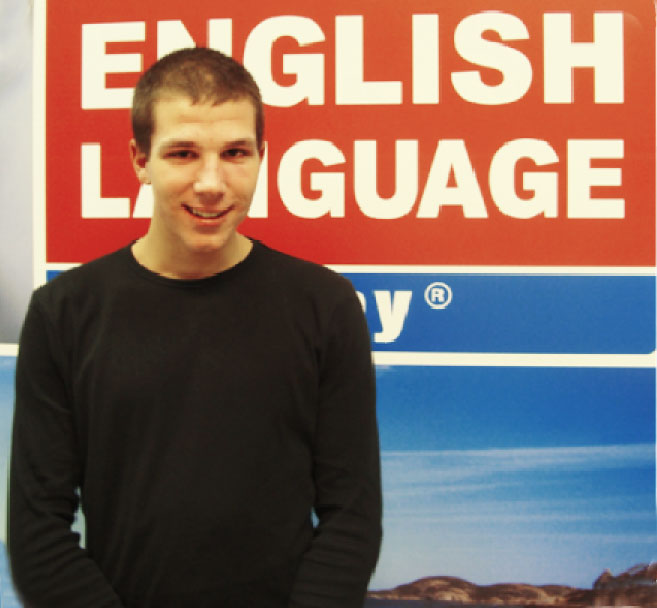 Hello my name is Florian Le Drogo, I am 18 years old.
I am really enjoying my studies at ELC. First, my teacher is very nice, the course is very interactive, topics are interesting ! This is a completely different way of learning : we study with games, in groups… Then, the nationality mix is very good, I have met people from all over the world ! I learned different cultures and shared great moments ! Also, the school has a perfect location, close to everything, Town Hall train station, Darling Harbour, Restaurants, the city centre !
Moreover the school has got a lot of facilities, computers, sofas… It is always neat and comfortable ! Finally I would like to say that I love the activities organised by ELC !!
For all those reasons, I would recommend this school to my friends!
Florian, 18
Package Gold to Sydney
17 weeks of English course with English Language Company
University of South Australia

Studying overseas really improves your skills to adapt to a whole different world with other people and a whole different way of living. It is a chance to step out of the culture and values of home and experience something completely new.
Overall it enhances your people skills, your flexibility and makes you a strong person in general: an asset that future employers like!
In this context UniSA gives you the opportunity to study in a multicultural, vibrant city at a university that understands the needs of international students and is one of the best in its field!
I chose to study in Adelaide because of the fact that it is known as a big multicultural city with a very easygoing atmosphere of a big town. I found it very easy to establish a lot of contacts, contacts that are great for my international network.
I chose to study at UniSA because of its reputation internationally in the field of business studies. I found out that the people at UniSA invest a lot of time in understanding and looking after their international students because of the vast amount of international students studying here every year.
I hope to become an expert in the field of sales and then move on to the next level and include some more aspects of marketing in my field of experience.
My ambition is to work abroad in a marketing/sales position. To do this you need a good theoretical background and the right up to date knowledge. You also need practical experience, which you can gain at UniSA through real life examples in the field you are studying in.
My advice is to learn every year you have worked, move on to the the next level, never sit still and make sure you keep on challenging yourself.
Jasper Verschurre
La Trobe University

The campus of La Trobe University is very big compared to a classic University. The Language Centre is situated in the South of the main campus. Its location explains its independence and also why it's quieter. But it's easy to go to the main campus with the campus bus (2 minutes) or for a walk (5 minutes). On the main campus, you find a lot of restaurants, shops, a library, some bars and also a lot of people to practise your English with. The main campus is probably the best place to understand the young Australian culture.
Julien Tremeau – France
Macquarie University
When choosing a business school, the most important criteria for me included the academic credentials of the institution and how well the content and design of the program met my needs. MGSM is a business school both recognised and approved by HSBC.
In my experience, the faculty were not only fully qualified, they were often expert consultants in their respective fields. A strong focus on case studies provided me with valuable references on best practice around the world, and the highly interactive and dynamic nature of classes offered excellent opportunities to extend my personal network.
Working in a multi-national organization, the knowledge that I have obtained through MGSM has certainly helped to lay a solid foundation for my career development. It is of the utmost importance that when you invest valuable time and money in business management study, that you invest in the right program that will generate true knowledge value.
Ronald Tse – Hong Kong,
Manager Regional Business Operations,
Personal Financial Services Asia-Pacific,
Hong Kong Shanghai Banking Corporation (HSBC)
MBA – Macquarie Graduate School of Management
Macquarie University has changed my life forever…There is a great sense of freedom and openness about the place… a great place to meet new people and make friends… It's a top ranking university, with high academic standards, outstanding accommodation, clubs to suit every interest and great sporting facilities.
I was astonished by Sydney's friendliness, multicultural acceptance and affordability… and it's incredible how many job opportunities come up... the choice is yours. The weather here is contagious; it just makes you feel like going for a never-ending walk…
Kunal Gupta – India
BA Commerce (Accounting)
The experiences I had during the Masters Program really opened my horizon on education and the way to study at that level… the discussion of syllabus at the first meeting… the offer for everyone to select topics for the presentation, and the role of the professors as facilitators was new to me... The way the class was organised impressed me so much… I received a lot of support from various staff at Macquarie to continue my studies and PhD, so I decided to further my studies at Macquarie.
Said Hamid Hasan (PhD) – Indonesia
Professor of Education &
Deputy Vice-Chancellor for Academic Affairs
Indonesia University of Education
MA and PhD, Curriculum Study
Macquarie University absolutely met my academic needs… it was exactly the program I hoped it would be… It has been extremely relevant to my current job; I would not have been qualified for this position without it.
It was so appealing: lovely campus within easy reach of Sydney; classes geared for mature students working part or full-time; accessibility to national parks and swimmable city beaches – basically a dream come true for a nature lover. Sydney's climate was a magnificent change and the landscape out of this world. It was also a lot cheaper for me to do my masters down under.
Advice for other intending overseas students – just do it! … Enjoy the exposure to different cultures, academic and work experiences… The perspective you'll gain on your home country, and the rest of the world as a whole, will be invaluable. '
Beatrice Chase – USA
Currently responsible for grants allocations
for environmental problem-solving
for private philanthropy, USA
Masters, Environmental Science
I am still amazed at how much I was able to learn in my years at Macquarie, something that was unimaginable to me when I started the course. One of the strengths of the Master of Commerce in Business is that it allows students to tailor the course to suit their needs. Even though group work can be very time-consuming, I enjoyed being able to work with people from different nationalities. I was therefore able to focus and specialize in exactly those areas that interested me. I feel that my unit choice and the emphasis on team work has allowed me to develop vital skills that will support my future career.
Anna Franziska von Spreckelsen – Germany
Master of Commerce in Business
I still remember the time I was insecure and anxious to leave my home country of Brazil and go to a new place where I knew nobody at all!… It was a big challenge for me, not only because I had to face a new culture and deal with a new language, but also because I had to learn how to live without my family, friends and everything I was used to. Despite that I had a wonderful time here in Australia… I enjoyed all the facilities the University had to offer and the diversity of the students…. I know that I've got more than a Master's degree, I've really learnt a lot of things, I've met new friends and overall I've grown and matured.
Now, I am ready to go back home and put into practice all the knowledge I've gained during this period. I know that it is going to be hard, because I'm sure I will miss Australia, which is an amazing country, full of beautiful places and friendly people. However, I will take with me very good memories and I will be looking forward to coming back one day.
Rodrigo Campos – Brazil
Master of Commerce in Marketing
Queensland University of Technology
I chose QUT because it offered various and very interesting electives at the Masters level. It's practical and flexible teaching system was great and the facilities were very good as well. The teaching and library staff were helpful and I really enjoyed liaising with them.
Armelle D'Alton, LLB – France
LLM (QUT)
Intern, Clifford Chance, Paris
QUT has a good reputation and it offers courses focused on ensuring graduates have to skills they need in the Business world. I strongly feel my English and business skills are really improving with QUT. The lecturers and tutors value interaction and are very supportive. QUT's mix of cultures means that you can meet people from all over the world and form long lasting friendships and business relationships.
Myriam Godin – France
Certificate in Integrated Marketing Communication
QUT's business faculty has a great reputation and offered a practical public relations course. I was pleased with the level of support I received from my lecturers and liked attending a campus so close to the city and other activities. The climate and friendly, easy going people make Brisbane a great place to study.
Andreas Klwtemar – Sweden
Master of Business (Public Relations)
Perth International College of English
Violà… cinq mois ont passé! Ce n'est pas sans nostalgie que je quitte Perth et PICE! Un grand merci aux professeurs que j'ai eu… J'ai eu énormément de plaisir à étudier avec eux!